"Oh the weather outside is frightful, but the vegan food is so delightful…"
It's that time of year again! Traveling, family gatherings, Christmas decorations lighting up the air outside at night. There isn't much not to love about the holiday season is there? Except the weight gain. This year High Carb Hannah has got you covered!
This Christmas enjoy some warm and savory lentil loaf, with creamy garlic potatoes, a quinoa caesar salad and lets not forget the dessert, pumpkin cream pies! All of these recipes are SOS (salt,oil,sugar) free and follow my best selling weight loss plan Lean & Clean to keep you on track during the holiday season.
And guess what? We have another gift for you! If you didn't get what you wanted for Christmas this year, use the code happyholidays for 25% off all our ebooks! Treat yourself to over 150 delicious whole foods plant based recipes or start the Lean & Clean program this New Year to shed some excess weight and make 2017 your healthiest year yet!
Are you hungry yet? Lets get started!
Lentil Loaf
Tools
Blender/food processor
Loaf pan
Oven
Sauce pan
Ingredients
1 cup brown lentils
1/2 cup red lentils
3 cups water
1 Flax egg (3 tbsp ground flax seeds, 6 tbsp water)
4 garlic cloves, minced
1/2 onion, diced
1 red bell pepper, chopped
1 carrot, chopped
2 stalks celery, chopped
1 1/2 cup oats
1 tsp fennel
1 tsp thyme
1/2 tsp onion powder
1 tbsp Italian seasoning
1 tsp cayenne (optional)
1/4 cup ketchup
Instructions
Preheat oven to 350F. First we are going to make our flax egg and let it set. Combine 3 tbsp ground flax, 6 tbsp water, mix and let it sit for about 10 minutes.
Take your 1 1/2 cup of oats and gently pulse in blender to make oat flour.
Next combine your lentils, water, and the rest of the ingredients (except for the oats, seasonings and ketchup) in a large sauce pan. Bring to a boil, cover, reduce the heat to a simmer and let cook about 30 minutes or until the majority of the water is absorbed.
Remove from heat, add in flax egg and seasonings, then slowly add in oats until you get a thick consistency.
Transfer mix to a non stick loaf pan and place in the oven on the middle rack for 30 minutes uncovered.
Remove from the oven, spread a thin layer of ketchup over the top of the loaf and place back in oven uncovered for 15 minutes or until the ketchup caramelizes. Let rest for 30 minutes before serving. Slice and enjoy.
Creamy Mashed Potatoes
Tools
Sauce pan
Potato masher or immersion blender
Ingredients
2lbs yukon gold potatoes, washed
1/2-1 cup unsweetened soy milk (or other plant milk)
1/4 cup nutritional yeast
1 tsp each, onion powder, garlic powder &
parsley
Instructions
Chop your potatoes into cubes add into sauce pan and cover with water.
Bring to a boil, cover, reduce heat to a simmer and cook until soft (about 15-20 minutes).
When the potatoes are soft, drain the water, add in the nutritional yeast, garlic and onion powder and mix.
Next slowly add in your soy milk while you mash until you get the consistency you want. Top with parsley and enjoy.
Quinoa Caesar Salad
Tools
Salad Ingredients
2 heads of romaine lettuce
3 cups spring greens
1/2 cucumber, chopped
3-4 medium tomatoes, chopped
1/4 red onion, thinly sliced
Quinoa Mix
1 cup quinoa
2 cups water
4 cups kale
1 tbsp Italian seasoning
1 tsp garlic powder
Dressing
1/2 cup hemp seeds
1/2 cup water
1 tbsp lemon juice
1 tsp mustard
1 tsp garlic powder
2 tbsp nutritional yeast
Instructions
Combine all of your ingredients for the quinoa mix in a sauce pan, bring to a boil, cover, reduce heat to a simmer and cook 15 minutes.
While the quinoa is cooking chop up all the salad ingredients and toss in a large bowl.
For the dressing combine all your ingredients in a blender and process until very smooth (about a minute). Place in a jar in the fridge until ready to serve.
Once the quinoa is done cooking, place in the fridge until cooled and then once ready to serve toss with the salad, drizzle the dressing over the top and enjoy.
Pumpkin Cream Pies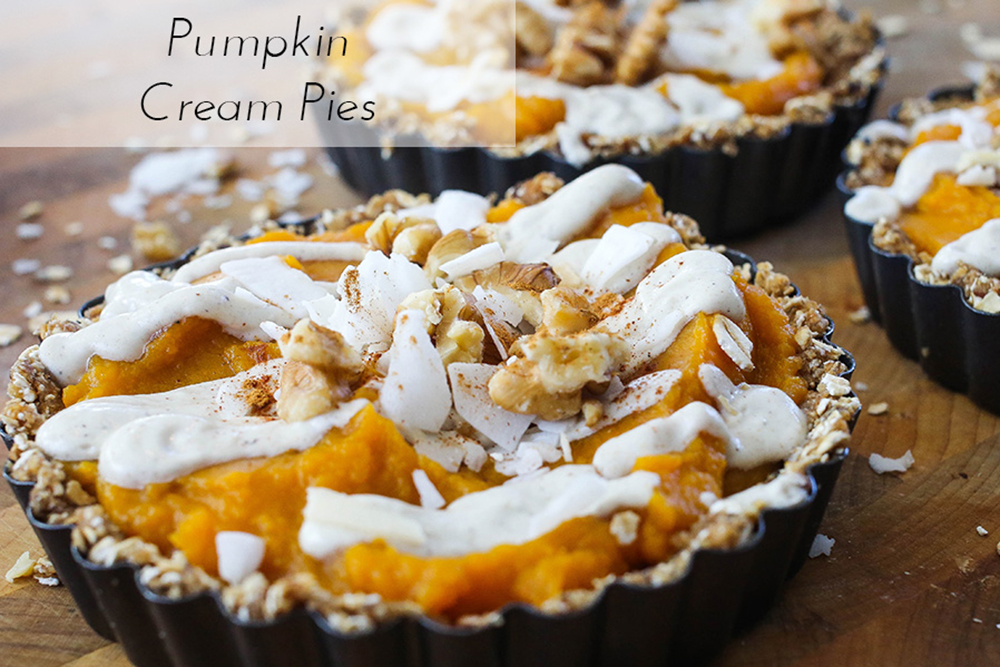 Tools
Food processor
Pie pan
Blender
Base Ingredients
1 cup oats
1 cup mulberries
10-15 dates (soaked 1 hour if using dried dates)
1 tsp cinnamon
Filling
Cream Frosting
1/2 cup cashews (soaked overnight)
1/2 cup water
1/2 tsp vanilla extract
6 dates (soak with cashews if using dried)
Toppings
2 tbsp chopped nuts
2 tbsp coconut flakes
Instructions
To make the base, combine your oats, mulberries and cinnamon in a food processor and start processing on low, slowly add in the dates until you get a cookie dough like consistency.
Press the dough into a pie pan as firmly as you can making sure to cover the sides as well. Add in your canned pumpkin.
Next take your frosting ingredients and process in the blender until very smooth (1-2 minutes).
Drizzle over the pie and the sprinkle on your chopped nuts/coconut flakes. Transfer the pie to the fridge to set and once ready to eat, cut and serve.
Use the coupon code happyholidays to receive 25% off any of our ebooks! Valid until December 24th 2016.